ITCS Seminar #03 (2018 Academic Year)

Chinese Buddhist Cave Sites from the Perspective of Architectural Space: With a Focus on the Mogao Caves in Dunhuang and the Maijishan Grottoes
Date: March 15 (Friday), 2019, 13:30-16:00
Venue: K-222, Koshien Hall
Lecturers: Dr. Kaoru SUEMORI (Research Fellow, National Museum of Ethnology)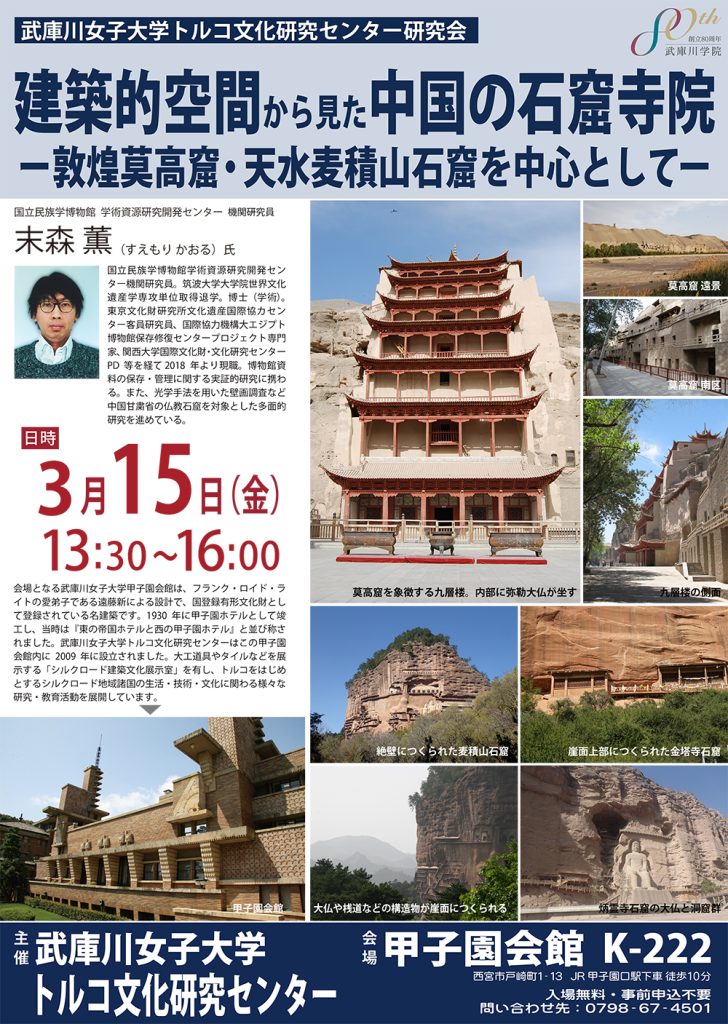 The 3rd Seminar of the Institute of Turkish Culture Studies of the 2018 academic year was held at the Kōshien Kaikan on Friday, March 15th, 2019. Kaoru Suemori, PhD, Research Fellow at Research Center for Cultural Resources, National Museum of Ethnology, was invited as the lecturer. He delivered a lecture titled, "Chinese Buddhist Cave Sites from the Perspective of Architectural Space: With a Focus on the Mogao Caves in Dunhuang and the Maijishan Grottoes."
Dr. Suemori first provided an overview of the Buddhist cave sites in China. This was followed by a chronological account of the spatial arrangements of the interiors of the Maijishan Grottoes, with special attention to structures and architectural elements depicted in the wall paintings. Dr. Suemori also explained how he analyzed a mortice in the face of a cliff, to reveal the existence of a structure that had so far not been discovered.
In the second half of the lecture, Dr. Suemori provided an overview of the Mogao Caves of Dunhuang and elaborated on how the caves functioned as religious spaces, based on cues taken from the murals. Specifically, he explained how the analysis of the copious wall paintings in the caves depicting many Buddhas led to inferences regarding changes in the cave spaces and the meaning thereof.
Following the lecture, the time allocated for asking questions developed into an active discussion on the murals, the iconography, and other topics. Overall, the seminar turned out to be an intriguing one that traced an interesting facet of the long history of the Silk Road.